Invisalign is a revolutionary dental treatment that offers an alternative to traditional metal braces. This orthodontics solution has gained prominence in New Braunfels, TX due to its effectiveness and convenience, which is why it's become one of our most popular dental services.
The clear aligners used in Invisalign treatment provides patients with the ability to straighten teeth and improve their smiles discreetly without the use of metal brackets and wires. Our dentists in New Braunfels offers this innovative treatment option for those seeking a comfortable and aesthetically pleasing method to straighten their teeth.
Dr. Marshall Warren and Dr. Lilian Carter are dedicated dentists who possess expertise in providing exceptional dental care, including Invisalign treatment. They understand the importance of having a healthy and attractive smile as it contributes significantly to one's overall well-being and self-confidence. Call us today to schedule an Invisalign evaluation at Great Oaks Dentistry!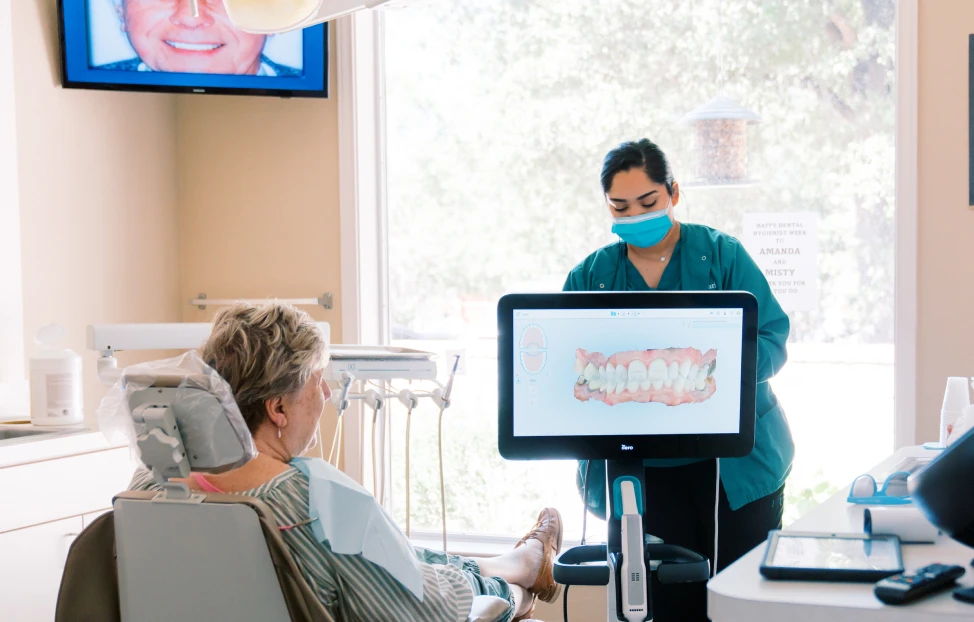 The Invisalign Treatment Process At Great Oaks Dentistry
At Great Oaks Dentistry, the Invisalign process is designed to provide patients with a comfortable and effective teeth-straightening experience. Dr. Warren and Dr. Carter, experienced dentists in New Braunfels, TX, play a crucial role in guiding patients through each step of the treatment.
Initial consultation and assessment: The Invisalign journey begins with an initial consultation at Great Oaks Dentistry. During this appointment, Dr. Warren or Dr. Carter will assess the patient's dental needs and determine if Invisalign is the right solution for them. They will also address any questions or concerns the patient may have.

Customized treatment plan: Once it is determined that Invisalign is a suitable option, Dr. Warren and Dr. Carter will create a personalized treatment plan. Using advanced technology, they will take digital impressions of the patient's teeth and develop a series of custom-made aligners designed to gradually shift the teeth into the desired position.

Receiving and wearing Invisalign aligners: Patients will receive their first set of Invisalign aligners, which are made of clear, BPA-free plastic. These aligners are virtually invisible and can be easily removed for eating, drinking, and oral hygiene. Dr. Warren and Dr. Carter will instruct patients on how to wear the aligners for the recommended 20-22 hours per day and when to switch to the next set in the series, typically every 1-2 weeks.

Monitoring progress and adjustments: Throughout the Invisalign treatment, patients will have regular check-ups with Dr. Warren or Dr. Carter at Great Oaks Dentistry. These appointments allow dentists to monitor the progress of the treatment and make any necessary adjustments until treatment is complete to ensure optimal results.
By following this comprehensive Invisalign process, patients at Great Oaks Dentistry can trust that they are receiving the highest quality care from experienced dentists, Dr. Warren and Dr. Carter, in New Braunfels, TX.
Benefits Of Invisalign Clear Aligners Treatment
Invisalign is a popular orthodontic treatment that utilizes clear, removable aligners to straighten teeth gradually. Patients in New Braunfels can benefit from Invisalign treatment in several ways, thanks to the numerous advantages that the system offers.
Here are some of the benefits of Invisalign treatment that patients can expect:
Discreet: Invisalign aligners are virtually invisible, meaning that patients can straighten their teeth without having to wear conspicuous metal braces. The clear aligners are custom-made to fit snugly over the teeth, providing a comfortable and discreet orthodontic treatment option.

Comfortable: Unlike traditional braces, Invisalign aligners do not have any wires or brackets that can irritate the mouth. The smooth, plastic aligners are designed to fit comfortably over the teeth, so patients can enjoy their treatment without discomfort.

Convenient: Invisalign aligners are removable, which means that patients can take them out when eating, drinking, or brushing and flossing their teeth. This feature allows patients to maintain good oral hygiene throughout their treatment, reducing the risk of tooth decay and gum disease.

Effective: Invisalign treatment has been proven to be effective in correcting various orthodontic issues, such as crooked or crowded teeth, overbite, underbite, and crossbite. Dr. Warren and Dr. Carter at Great Oaks Dentistry are experienced in providing successful Invisalign treatments, and many patients have achieved outstanding results.

Faster: In some cases, Invisalign treatment can be faster than traditional braces, with an average treatment time of 12 to 18 months. This means that patients can achieve a straighter smile in a shorter amount of time.
Schedule Your Invisalign Consultation At Great Oaks Dentistry New Braunfels TX
Achieving a stunning smile is now easier than ever with Invisalign treatment, offered at Great Oaks Dentistry in New Braunfels, TX. This modern orthodontic solution has revolutionized the way individuals can straighten their teeth and improve their oral health.
For those interested in pursuing this innovative dental procedure, scheduling an initial consultation with Dr. Warren and Dr. Carter is the first step towards a transformed smile.