DENTAL EMERGENCY?
Call Our Hotline Now!
Emergency Dentistry In New Braunfels, TX
We understand the urgency and stress associated with dental emergencies, which is why we offer Emergency Dentistry services to patients in New Braunfels at Great Oaks Dentistry. Our dentists, Dr. Warren and Dr. Carter, are highly trained and experienced in handling all kinds of dental emergencies with care and expertise.
As emergency dentists, Drs. Warren and Carter possess the necessary skills and knowledge to provide prompt and effective emergency dental care for their patients. They are dedicated to staying up-to-date with the latest advancements in emergency dentistry to ensure that patients receive the highest standard of care and as quickly as possible.
At Great Oaks Dentistry, we prioritize our patient's well-being and understand the importance of providing efficient and effective emergency dental care. In times of dental emergencies, residents of New Braunfels, TX can rely on our Emergency Dentistry services and the expertise of Drs. Warren and Carter to help them alleviate their pain and discomfort.
What Is Emergency Dentistry
Emergency dentistry is a branch of dental care that focuses on addressing acute oral health issues requiring immediate attention. Patients experiencing severe toothaches, broken or chipped teeth, abscesses, and other urgent dental concerns can rely on the expertise of local New Braunfels emergency dentists to alleviate their pain and protect their overall well-being.
Time-sensitive treatment by skilled professionals not only helps in preserving your natural teeth but also prevents complications such as infection from spreading. Drs. Warren and Carter are highly experienced and reputable dentists who understand the importance of offering prompt and effective solutions for patients dealing with various dental emergencies.
Their state-of-the-art facility is equipped with cutting-edge technology designed to diagnose and treat even the most complex cases quickly and efficiently. With years of experience under their belts, they have developed an excellent reputation for providing compassionate care tailored to each patient's individual needs while ensuring minimal discomfort during procedures.
The impact of emergency dentistry services cannot be overstated when it comes to safeguarding one's oral health in times of crisis. The residents of New Braunfels can take comfort in knowing they have access to top-notch dental care provided by Drs. Warren and Carter – experts committed to promptly attending to all types of emergencies without compromising quality or patient satisfaction.
Common Dental Emergencies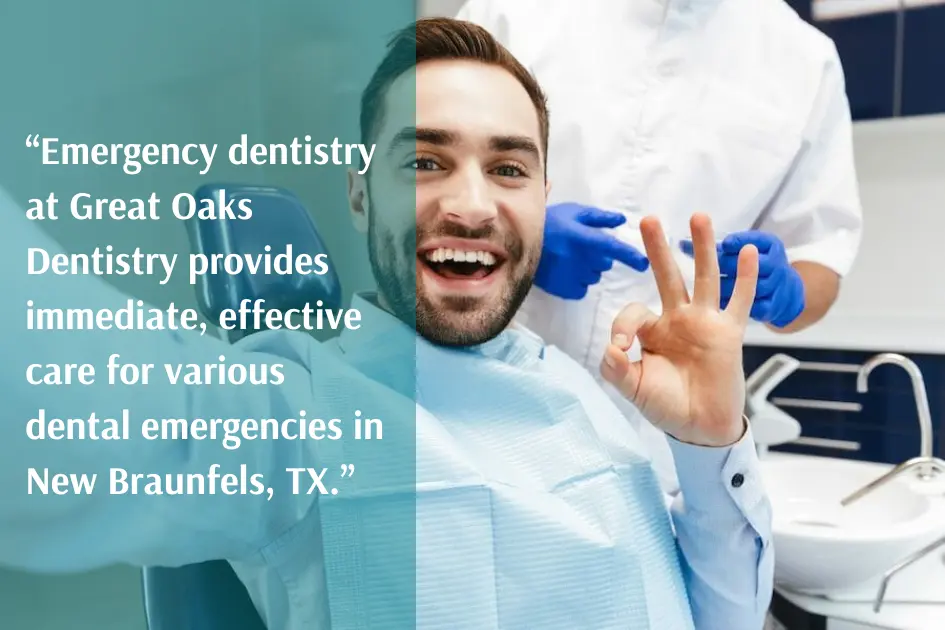 There's no need to worry when a dental emergency strikes! Great Oaks Dentistry is here for you with top-notch care and expertise. Drs. Warren and Carter are highly skilled professionals who have honed their craft over the years, ensuring that you receive the best possible treatment during your time of urgent dental needs.
At Great Oaks Dentistry, we offer a wide range of emergency dental services tailored to address various situations:
Tooth pain: Our dental professionals quickly identify the cause and provide appropriate relief.

Broken or chipped teeth: We can restore your smile by repairing damaged teeth through bonding or other restorative techniques.

Lost fillings or crowns: Our dentists will promptly exam you and restore or replace them to protect your tooth from further damage.

Dental abscesses & infections: With timely intervention, our experienced dentists help alleviate pain and prevent complications from this potentially life-threatening condition. If you've developed an infection or abscess, do not wait to contact our office and call us as soon as possible.
When it comes to choosing an emergency dentist, look no further than Great Oaks Dentistry. Not only do we provide exceptional emergency dental care, but we also ensure that our patients feel comfortable and at ease throughout their visit.
From compassionate staff members to state-of-the-art facilities equipped with advanced technology, every aspect of our practice is designed to keep patient comfort and satisfaction in mind.
What To Expect During An Emergency Dental Visit
Upon arriving at our office, you'll be greeted by our friendly staff who will quickly assess your situation and make sure you receive the necessary attention right away. The dentist will then examine the affected area to determine the best course of action for treating your specific emergency. Whether it's a toothache, chipped or broken teeth, lost fillings, or any other dental issues requiring urgent care, you can trust that our skilled professionals will take excellent care of your oral health needs during this critical time.
Don't hesitate to reach out if you find yourself facing a sudden dental issue; remember that getting timely treatment from an emergency dentist can potentially save your tooth and prevent further complications down the line.
At Great Oaks Dentistry, we strive to provide exceptional service while helping alleviate any discomfort caused by unexpected dental problems. Our compassionate approach ensures every patient leaves with restored confidence in their smile!
Why Choose Great Oaks Dentistry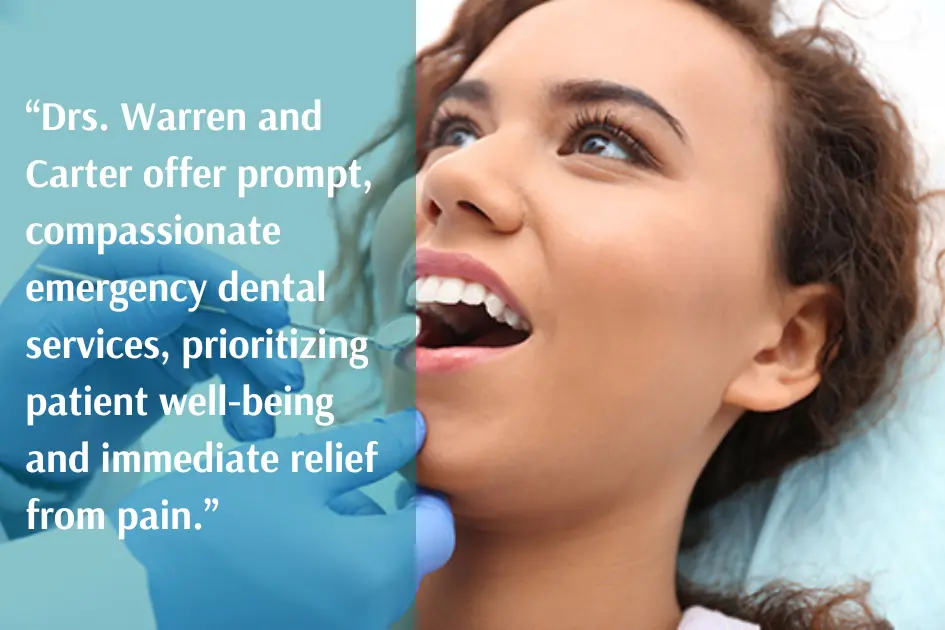 Great Oaks Dentistry is your go-to choice for all your oral health needs, including dental emergencies in New Braunfels, TX! With our skilled dentists, Drs. Warren and Carter, you can rest assured knowing that they have the expertise needed to address any urgent situation with compassion and personalization.
Our emergency dentists in New Braunfels believes in providing exceptional patient care tailored to each individual's needs. The team at Great Oaks Dentistry understands that every case is unique and requires personalized attention. When faced with a dental emergency, this level of dedication ensures not only immediate relief but also comprehensive treatment plans designed to restore your oral health fully.
Choosing Great Oaks Dentistry for your emergency dental services means entrusting your smile to professionals who genuinely care about their patient's well-being. Our compassionate approach combined with cutting-edge technology allows us to offer efficient solutions when time is of the essence.
Contact Our Office in New Braunfels, TX For Your Dental Emergencies
When facing a dental emergency, it's crucial to act quickly and seek professional help. At Great Oaks Dentistry, Dr. Warren and Dr. Carter are committed to providing prompt and compassionate care for all your emergency dental needs. Don't hesitate to call our dental office to schedule an appointment when you're experiencing pain or discomfort – we understand the urgency of these situations and will make every effort to see you as soon as possible.
Learn more about Emergency Dentistry