General Dentistry in New Braunfels, TX
Making a difference in our patients' lives through compassionate, general dentistry.
Dr. Marshall Warren and Dr. Kelli Jimerson, along with our exceptional dental team, provide excellent quality care while doing our best to meet your needs and expectations. With more than 35 years of combined experience, our doctors blend time-tested treatments with state-of-the-art technology to ensure you achieve the oral health you desire.
Comprehensive Dentistry for Your Family
Patients of all ages, from the young to the young at heart, can count on receiving the very best dental care in New Braunfels at Great Oaks Dentistry.
Dental exams and cleanings
Tooth-colored fillings
Crowns and dentures
Porcelain veneers
Teeth whitening
Treatment for gum disease
Root canal treatment
Oral surgery and extractions
Sleep apnea appliances
Invisalign® clear aligners
Dentistry with a Gentle Touch
We understand that the dental office can induce anxiety for some patients. We don't take it personally! Instead, we focus on creating a calming, comfortable space where you can feel safe and secure, knowing you're in good hands.
A Focus on Education
We believe that the happiest, healthiest patients are those who are well informed about their options. Our doctors and staff will spend quality time explaining your treatment needs and incorporate video presentations regarding recommended procedures. We're happy to answer any questions you may have to empower you to make the right decisions for you— and your health.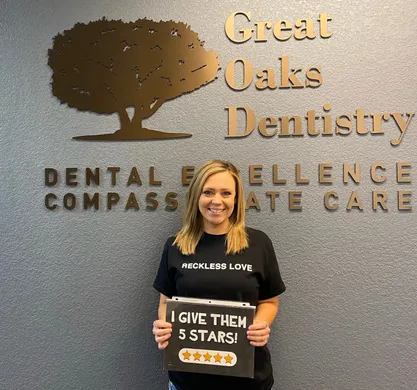 Making Care Affordable
Dr. Warren and Dr. Jimerson believe that quality dental care and good oral health should be available to everyone. If a treatment is not covered by insurance, we offer convenient financing plans and healthcare financing through CareCredit.
We welcome you to our New Braunfels dental office with open arms and friendly smiles! Please give us a call or fill out our appointment request form to start your journey to a lifetime of healthy smiles.